Introducing the Vehicle Intelligence Hub
Developed by Routeique™, the Vehicle Intelligence Hub (VIH) will give you a complete insight into the health of your fleet assets. The components that make up the VIH will easily attach to key parts of your assets to provide you with information about door contact, engine health, GPS location and climate; such as humidity and temperature. The VIH is also Electronic Logging Device compliant (ELD) to meet the requirements of the ELD mandate.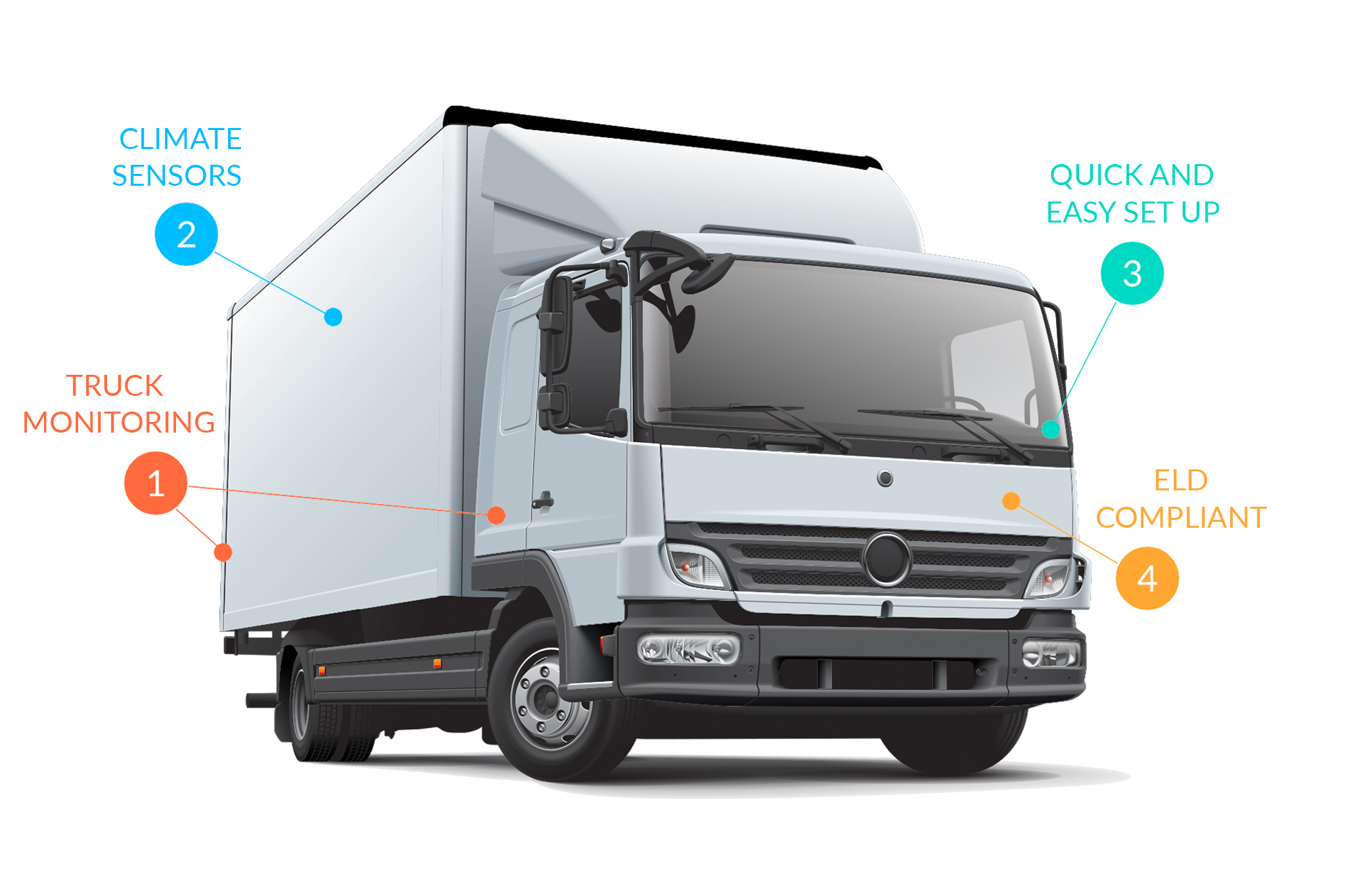 The Components of the VIH
In order to understand what the VIH can provide for you, we need to look at the components it contains.
Door Contact Sensors
Door contact sensors allow you to see how long the doors have been opened for and will work together with temperature sensors to ensure Cold Chain Compliance. Alerts will be sent directly to you to let you know if a door has been left open, posing a risk to your assets.
Multi-Zone Environmental Sensors
Sensors placed inside the truck will detect and report on environmental conditions to ensure deliveries are at the right temperature and humidity. The temperature sensors will ensure Cold Chain Compliance and even provide a traceable temperature record for easy dispute resolutions.
Intelligence Hub
The vehicle intelligence hub connects via cellular data while the truck is on the road. Data will be translated directly to the Digital Control Tower for instant real-time updates. The VIH is connected directly to the J1939 CANBUS for vehicle diagnostics and operating information. While connected, the VIH will also charge it's internal 7.4V lithium-ion backup battery. This allows the VIH to transfer all sensor data up to 24 hours of the vehicle shutting off.
ELD Compliance
With ELD compliance, the VIH will ensure your fleet is up to standards based on the ELD mandate introduced in June 2019. With an expected full-roll out in 2020, the ELD mandate requires most fleets in the US and Canada to transition from paper logs to computerized logs to track driver's hours. The VIH will be hardware that connects to the truck's engine control module and ensure your fleet meets the requirements of the ELD mandate.
Pilots
Routeique™ has been undergoing a series of pilots with our partners at Birkby Foods to test the VIH. The primary goal of the first pilot was to test functionality and different sensor placements. We loved how magnetic backplates made setting up and moving the sensors around effortlessly. Subsequent trials have tested three key areas:
Error logging capabilities
If anything were to act unexpectedly, a full log of the issue, as well as information about how it happened, becomes available.
Reliability of the self-healing mesh
This ensures sensors can be removed and re-entered without any issues occurring as well as having the web of devices continue operations even when a sensor suddenly stops.
Data integrity
We've made sure our sensors are tested and the data received is accurate and suitable for use.
The results of this pilot make us excited to bring the VIH to our clients and show how it will benefit you and your assets.
Stay Tuned
If you are interested in becoming a part of our beta, please get in contact with us. We'll be more than happy to get you started.
Send an email to info@routeique.com or visit our contact page for more details on how to get in touch.